Wedding Officiants for Your Special Day
After your engagement, it is time to start planning the wedding ceremony. Amor Wedding Chapel in Lynwood, CA has its own wedding officiants to help ease the stress that comes with planning. Wedding officiants on our staff take care of the marriage license and return it to the Los Angeles County Office after your marriage ceremony. Whether you want to have an intimate wedding at home or in our gorgeous chapels, our officiants are onsite and available for mobile services to accommodate your wants and needs. With our wedding officiants, you won't have to worry about filling out extra paperwork or going to the County Clerk's Office yourself. Are you getting married in a rush? You don't need to go to Las Vegas. We have you covered. Reach out to us today.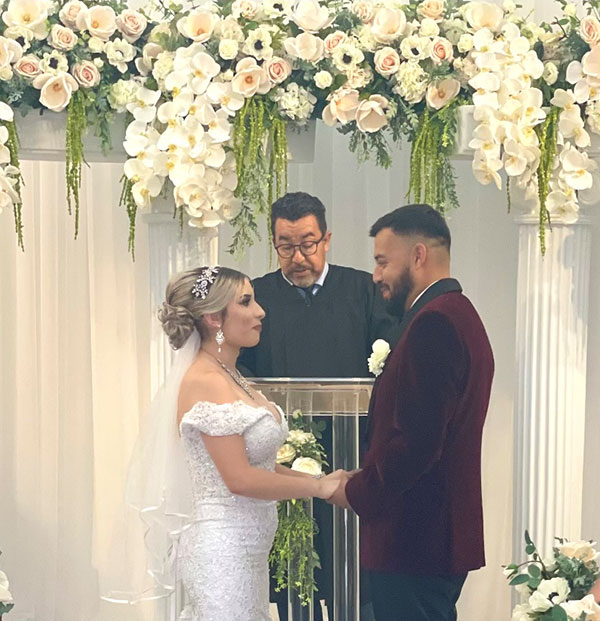 Let Us Do the Heavy Lifting
A wedding officiant is any person who performs the role of officiating a legal marriage. We have our own officiants onsite, so you don't have to worry about the legality of your marriage. Our Lynwood and Long Beach facilities are easily accessible from anywhere in the Los Angeles area. We offer inclusive wedding packages that involve photography, decorations, DJs, and much more. With an onsite officiant, you and your partner can sit back and enjoy your special day without worrying about making trips to the County Clerk's Office. Our officiants have had experience marrying people from all backgrounds and all beliefs. Whether you are Jewish, Nondenominational, or simply believe in love, our team can accommodate you.
Trust Our Wedding Professionals
No matter what you need for your special day, Amor Wedding Chapel's professional wedding planners will make it happen. With onsite officiants, house photographers, DJs, decorations, and stunning venues, you will be sure to have a day that you and your partner will look back on fondly. We take care of all the heavy lifting so that you can enjoy spending time with your loved ones. Your wedding day is about celebrating love, so we will ensure that the focus is on nothing but that. View our gallery photos online to explore the visuals of our venues and reach out to one of our team members to schedule your big day. You won't regret trusting us.